24/05/2023 - Selsley Common Bottom Landing
There are currently cows with calves in the normal bottom landing field - DO NOT LAND IN THIS FIELD, until such time that it is free of cattle. Alternative fields, adjacent to this one, are fine to land in (unless they have cows in as well). Thanks.
Read More
Grid Reference
SO 827 032
Site Officer
David Warren (07710 043970)
Permission
Open site. Selsley is common land.
Parking
Park on the edge of the common no more than 50' from the road.
Rigging
Anywhere on the common.
Take Off
About 400 yds from the road anywhere on the ridge. If the modellers are flying, their area is from the west of the memorial stone. Please do not fly or rig in this area.
Local Flying
Beware of the wind gradient and sudden turbulence in winds of 16 mph or more, especially if the wind goes either east of north or west of north-west. Keep a look out for the modellers that use the ridge, study their circuit patterns and stay to the east of the stone monument if possible unless you have loads of height. Always get briefed by a local pilot before flying. This site is fairly friendly on a paraglider if the conditions are gentle. If you are going down, side land early to avoid turbulence from the trees lower down the slope. The shoulder to the NE of take-off is also a good place to side land. This area is also shared with the Bristol and Gloucestershire Gliding Club so please be aware that sailplanes frequent this area in abundance.
XC Flying
If there is any west in it you are better off going to Frocester. The site has excellent XC possibilities, but can be difficult to get away from.
Top Landing
Land anywhere on the common, with the exception of any area being used by modellers. The area behind the take-off and the quarry can be turbulent in strong conditions, therefore land further back.
Bottom Landing
The field directly below take-off on the north side of the road, but note that it dips in the middle. No bottom landing if the grass in this field is long. Beware the electricity pylons below and to the left of take-off. Do not land in any other fields as this has caused friction with the farmer in the past. If in doubt, ask before flying.
Hospitals
Stroud or Gloucester.
Directions
The site can be found about two miles SW of Stroud on the B4066 Dursley Road and is at the NW end of the common.
Ordnance Survey Sheet
162
Latest Flying Diary Entries for Selsley Common
12/09/10 David Warren - Got there early-ish and it was flyable, if a little gusty at take off. The Waynes made some height, then became blown out, until calming down again in the evening.
09/11/07 Alec Linton - Very Strong when I first arrived with my HG but wind dropped by 1pm. 3 flights but only to 150ft ATO. Not very lifty and a bit off to west. Mainly hovered around the 100ft ATO mark which was just enough to top land.
20/12/01 Rich Harding - Tried Blorenge first (with Alex and Jo) but everything had died during our drive over. Retired to Selsley where Alex had a few flights, Jo did some ground handling and had a couple of floats and I must have been in the air for all of a second. Ah, well!
31/08/01 Alec Linton - 30 minutes HG soaring in fairly light winds 400 foot ATO maximum. Forced to land by showery weather.
16/02/01 Felix Alcock - Beautiful sunny day with the wind initially on the hill, allowing height gain of 200ft ab t.o. Wind then went to NE and a bit turbulent as it strengthened - Great to be flying again after the winter ! Terry and Julie also flew on their tandem.
Clickable Bing Map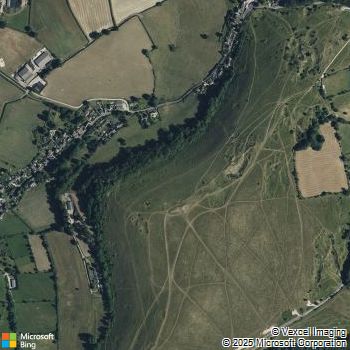 ---
This page last updated: 3rd February, 2022
© Avon Hang Gliding & Paragliding Club, 1997-2023
E-Mail the