Latest Flying Diary Entries for Cam Long Down
30/11/13 Richard Miller - Lovely sunny soaring with mostly smooth lift and great views (Ok, the views are mainly of Dairy Crest, but still pretty good). Great site for this sort of day.
05/11/12 Paul C - First time at this site. 11am wind surprisingly strong at top. Tricky take-off with wind, mud, and prickly ground snagging lines. May have been soarable with skill, but once I'd cleared the trees on takeoff, I drifted away for a 2min top to bottom. Then headed to Selsley.
04/06/12 Richard Miller - My 1st flight at this site, thankfully in the company of the Safety Officer, who also flew. Wind was light under 7/8 cloud cover, but smack on so after a bit of GH launched into a flock of swifts and wafted up to 400 ft ato. Bit more difficult after the birds b*ggered orf but still fun for as long as it lasted. Interesting alternative to Lecky for those around Stroud.
19/02/12 Wayne S - Great days flying, got bored on selsley so crossed super low onto main fros ridge, pretty much straight lined to fros throu sum nice climbs,waited for iain s to catch up then took a glide from about 500ft ?? From the point at fros direct to cam long, iain made it but i bottled it, got in2 big nw bowl at fros,great climb to get the height to crosswind to cam long , followed by wayne and rob k, rang kate from the air for retrieve and then soared untill she arrived :) happy days and a 1st i think
28/01/12 Wayne Buckland - A nice 1 1/2 hrs soaring with Wayne S and 5-6 buzzards to keep us company, and a few nice little thermals thrown in for good measure.Nice to fly a little used site
Clickable Bing Map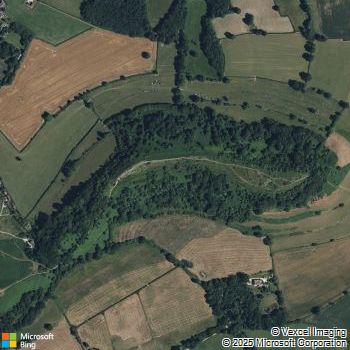 ---
This page last updated: 3rd February, 2022
© Avon Hang Gliding & Paragliding Club, 1997-2023
E-Mail the