Latest Flying Diary Entries for Long Knoll
06/05/13 Dave C - After family commitments arrived on top at about 6 pm. Pretty gusty so moved down slope a bit to keep clear of the barbed wire fence. Had a bit of a boat around lumpy at times could see the boys at Mere and copped the aroma from the dung heap too.
23/03/12 Tim Pentreath - Had a fun two or three hours flying the full length of the ridge. Unfortunately the thermals never quite happened though I did get a nice climb up to 2000' at one point but it wasn't worth going over the back with. Nice not to be in the Mere melee!
01/10/11 Irsh John #1 - Started flying in a quite uncrowded Mere. Then it go busier but thermals allowed separation. HAd a great bit of flying. Then landed and took off again. Got very busy so was trying to get to land and was squeezed by two gliders coming at me from hill edge so I had to fly straight at the hill becuase of nowhere to turn. Very fast landing and a couple of scratches but bloody scary could have been much worse. Packed up and went to long knoll with Irish John#2 for 2 hours of heavenly flying.
14/06/11 Tim Pentreath - Managed to take the afternoon off work, but what with only leaving at 1315 I didn't take off until 1510 but climbed out pretty much straight away. Only got to base (and beyond) once over Frome, thereafter it was a losing battle with the spreadout coming from the SW. Sneaked round the invisible force field surrounding Colerne and landed near the M4. Easy hitch home to Bath, then lovely bike ride back to Long Knoll to collect my car. Great day apart from the news about Jo of course...
30/04/05 Michael Coupe - TVHGC invasion on Mere prompted me to try Long Knoll for the first time. Rewarded with a 5k flop over the back. Got to base twice - below 2000ft!
Clickable Bing Map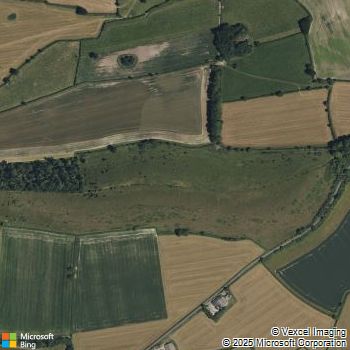 ---
This page last updated: 3rd February, 2022
© Avon Hang Gliding & Paragliding Club, 1997-2023
E-Mail the